Scouting Programs
The purpose of the Boy Scouts of America, incorporated on February 8, 1910, and chartered by Congress in 1916, is to promote an educational program for boys, girls and young adults to build character, to train in the responsibilities of participating citizenship, and to develop personal fitness.
Beginning on 2018, the Cub Scouts program will be open to boys and girls. By welcoming boys and girls into the program, even more youth will have access to the character development and valued-based leadership that Scouting promises and be better prepared for future success.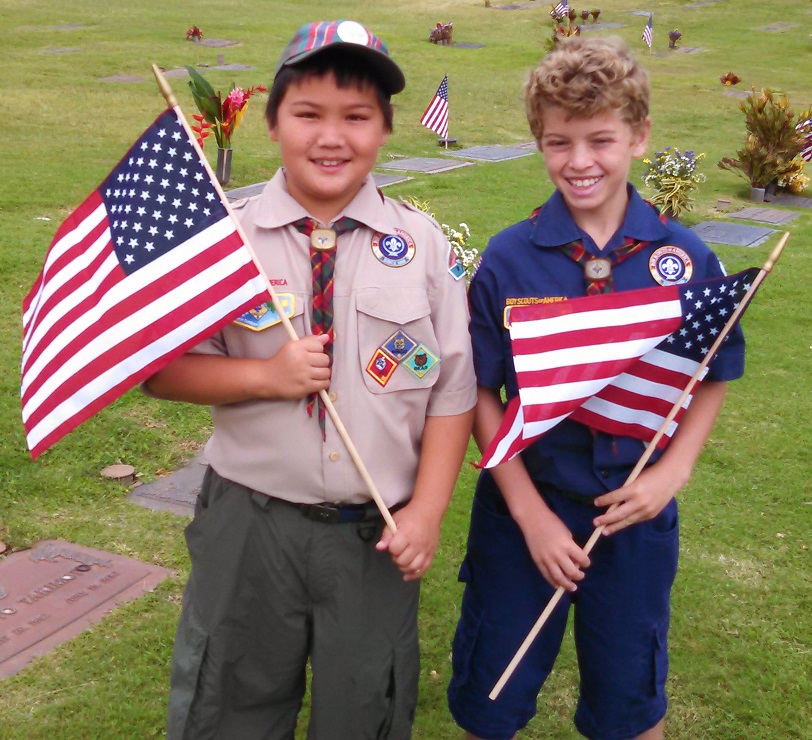 Scouting Programs, click here for more details.
Lions

As a Lion, your kindergartner will make friends, laugh
loud, gain confidence, discover nature, and most of all...
have fun! They'll experience the Scouting concepts of
character development, citizenship, and personal fitness
through engaging and exciting adventures! Kindergartners
will have a blast exploring the world around them in ways
that fuel their imagination and creativity.Together, they'll
take their first steps down the path to success.

Tigers

A school-year program for first-grade (or 7-year-old)
boys and girls with their adult partners that stresses simplicity, shared leadership, learning about the community, and family understanding. Each boy/adult team meets for
family activities, then twice a month all the teams
meet for Tiger Cub den activities.

Cub Scouting Cub Scout Video

A family- and home-centered program for boys and girls in the second through fifth grade (or 8, 9, and 10 years old).
Fourth- and fifth-grade (or 10-year-old) boys are called
Webelos Scouts (We'll BE Loyal Scouts) and participate
in more advanced activities that begin to prepare them to
become Boy Scouts. Cub Scouting's emphasis is on
quality program at the local level, where the most boys
and families are involved.

Boy Scouting Boy Scout Video

A program for boys ages 11 through 17 designed to
achieve the aims of Scouting through a vigorous
outdoor program and peer group leadership with the
counsel of an adult Scoutmaster. Boys alsomay
become Boy Scouts if they have earned the Arrow
of Light Award or have completed the fifth grade.
Varsity Scouting is an active, exciting program
for young men 14 through 17 built around five program
fields of emphasis: advancement, high adventure,
personal development, service, and special programs
and events.

Venturing Venturing Video

Designed for young men and women ages 14 (who have
completed the eighth grade) through 20 to gain insight
into variety of programs that offer leadership training,
fitness, outdoor, service, high adventure, and career
hands-on experiences. Venturing promotes the
conditions necessary for the growth and development
of adolescent youth.

Exploring Exploring video

Helps teen and young adults discover career opportunities and life goals within a group of friends and real-world, one-one mentorship. It's designed to build
confidence, motivation, and self reliance.

The Order of the Arrow OA video

The national brotherhood of honor campers, recognizes
those Scout campers who best exemplify the Scout
Oath and Law in their daily lives, and it has local lodge,
section, and national meetings.
For more information on Scouting programs, call or Visit us at our Service Center
Service Center hours: 8:00 a.m. - 4:00 p.m. (Mon - Friday)